When a business is looking to grow, there will always be risk. This can be external factors such as the economy, politics or technology or internal influences such as your employees.
When thinking about growth your first question should always be, 'what am I trying to achieve?'. Once you are able to answer this, you need to be asking yourself, 'what is the best way for me to grow?'. This could mean releasing new products or services or developing existing ones.
In this article, we will look at the risk associated with growth through three key theories, helping to better understand ways we can mitigate these risks to have the best chance of success…
Recognising The Risk
What we need to recognize when a business is looking to grow is the level of risk linked to different types of growth. To help understand this, we can look at an economic model called the Ansoff Matrix.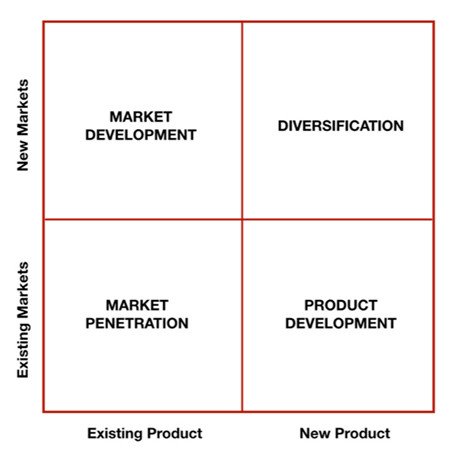 Firstly, we have market penetration. This is when a business sells an existing product/service to their existing market/client base. This is considered low risk as there is not much changing in the business and can be seen as quite a slow way to grow.
Secondly, there's market development. This is selling an existing product/service to a new market. This is a medium risk as although the business is selling the same thing, the needs and wants of customers may differ in alternate markets and so, the business will need to understand what these customers want.
Next, we have product development. This means to sell a new product or service in your existing market. This is also considered a medium risk as the business already knows the needs and wants of their customers so they would be able to provide a new product/service that suits the market due to their knowledge.
An issue with this is a business would be investing time and money into a new product/service and would not want to see it fail. Finally, we have diversification. This is when a business sells a new product/service to a new market. This is considered a high risk as the business would be investing a lot of time and money to develop and new product/service as well as investigating the market they wish to enter.
As shown through the Ansoff Matrix, we can see that there will always be risks when looking to grow. Luckily, there are some ways we can help counter these risks.
Models Of Success
Firstly, when looking to grow, whether that be through market penetration, market development, product development or diversification, a business should always carry out market research. It doesn't matter which element of the Ansoff Matrix you are attempting to grow through, being able to better understand the market you are in, or are looking to move into, is invaluable. This will help you have a greater understanding of what your customers want from you which can lead to you making the necessary changes to your business to better facilitate growth, therefore reducing an element of risk.
Another way to help reduce risks associated with growth is to carry out a PESTLE (Political, Economical, Social, Technological, Legal, and Environmental) analysis. Carrying out this analysis helps you to enhance your understanding of these external risks. In doing this, you can identify any risks brought around through the changes in these areas.
For example, changes to the economy can affect people's disposable income, meaning they are less likely to go out and spend their hard-earned money. This can be seen currently with the cost-of-living crisis as people start to spend less on buying goods so they can afford their rising bills. Another example would be changes in society.
The public's opinions and behaviours change all the time and businesses need to keep up with this. An example of this, can be seen through more and more businesses preferring to use vegan leather over real leather and more people shifting towards plant-based diets. Because of this, your business needs to be kept up to date with current changes in the world as it can help you plan and change with the times. This could be as small as keeping up with the news so you can see changes in law, economics, or politics, which in turn, helps you to plan.
This all links back to the earlier point about market research. Carrying out market research will help you be better prepared for upcoming changes, in turn, helping to reduce risks of growth.
A third method to help reduce risks is to carry out a SWOT (Strengths, Weaknesses, Opportunities, and Threats) analysis. The strengths and weaknesses sections are internal to your business and the opportunities and threats sections are external factors to your business.

This is a good analysis to use when planning to grow as it helps you identify which areas your business is good at so that you can maintain them and possibly turn them into opportunities. It is also beneficial as looking at external changes can help you identify opportunities such as political or economical.
SWOT analysis is also very good at identifying areas your business needs to work on. By carrying out a SWOT analysis, you may identify a lack of structures in place in your business or a lack of employees, helping to identify where you need to improve so that these weaknesses don't turn into threats. For example, a lack of employees could lead to not finishing a job on time which in turn forces your customers to go elsewhere for future jobs.
As a business owner, you want to be able to fix your internal weaknesses so that your business isn't under threat. SWOT analysis is good when paired with a PESTLE analysis, as you can use the PESTLE analysis to get a better understanding of your opportunities and threats meaning you can better plan when looking to grow.
Once these methods have been carried out, your next step would be to create an action plan. Make some notes and outline what type of growth you want to achieve using the Ansoff Matrix and how you aim to achieve this. Once you have this, you can move on to carrying out market research, a PESTLE analysis, and a SWOT analysis to identify risks both internally and externally. After you have the results from these, you can set up contingencies so that you can counter these risks. For example, if you carry out a SWOT analysis and see you have a lack of staff, you can then investigate how many employees you would need to have a higher chance of success.
Once you have started the process of growth and have your action plan written out, revisit your PESTLE analysis, market research and SWOT analysis every few months to keep up to date with any changes that may facilitate risk to your business. It is proven that having someone to hold you accountable for your actions leads to quicker and better successes, so you should also find someone to hold you accountable for your action plan. As well as this, having regular check ins with them will help to keep you focused.
One of the services we offer at Nordens are accountability calls, which are short, sharp check ins, to the point and action focused, allowing you to celebrate your progress, stay on track and keep your momentum towards your goals.
I hope this has outlined the risks associated with growth and how to better plan for this when the time comes for you to take the step towards growth. If you would like to know more about our advisory offering and how we help business owners achieve their personal and business goals, please don't hesitate to get in contact with us at Nordens where one of our trusted advisors would be happy talking you through your query.